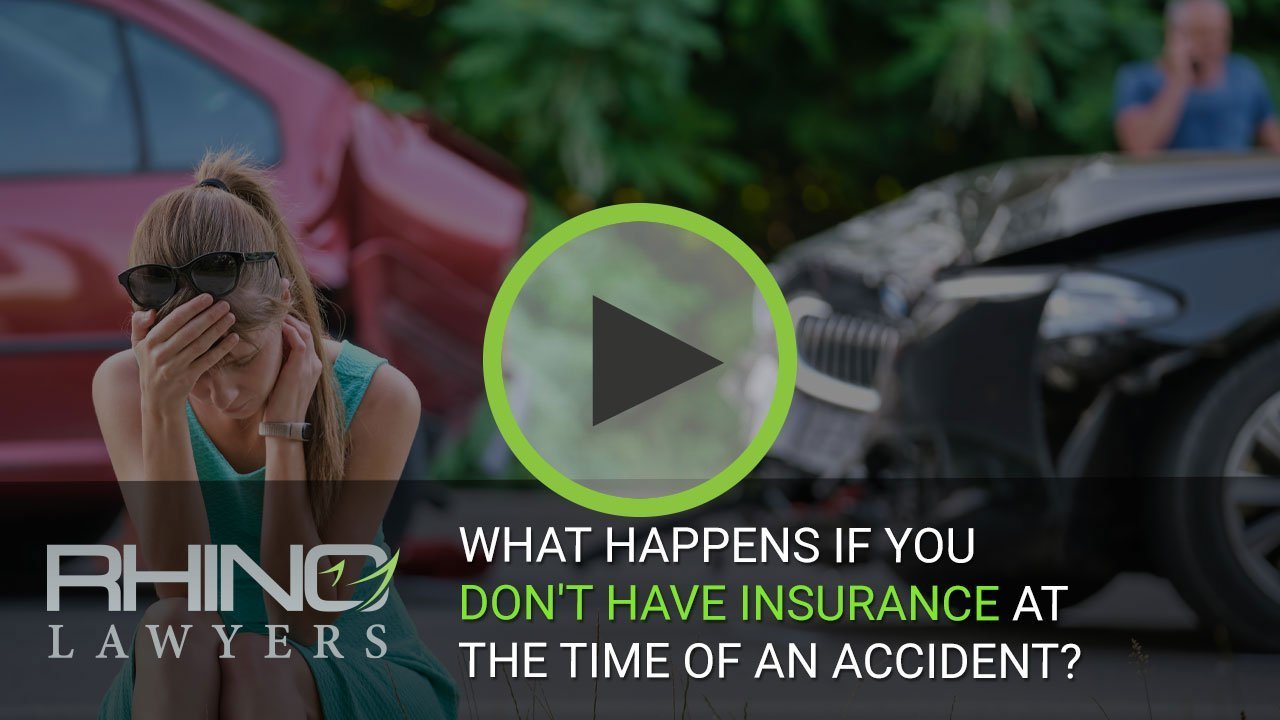 If you're one of the 12% of drivers who are insured, one of the most common questions you have is, What happens if I get in a car accident?
The truth is, getting into a vehicle accident with no insurance can be scary. You're going to stress about paying for the damages. And, most importantly. you'll think about how to get back on the road quickly so you can keep going to work.
With the right legal knowledge, you'll be able to save money and time by knowing exactly which costs you're responsible for. You may even be able to recoup some of the money you lost due to the accident. We'll walk you through everything you need to know when you've been in a car accident with no insurance.
When the Vehicle Accident Is Your Fault
As the at-fault driver, you'll be hit with a hefty fine for driving uninsured-and those fines can range from state to state. For example, if you're caught driving without insurance in Florida, you can pay up to $500 per violation. That's some serious damage to your bank account.
Not only that, but you'll be solely responsible for repairing any damage caused to the other driver's vehicle. You'll also be the one who has to pay for their medical bills. And if anyone else was harmed in the accident, that's another expense you'll have to cover.
What's more, if the other driver decides to sue you, you'll have to pay all your legal fees out of pocket. And, in some cases, you'll also be responsible for their legal fees as well.
On top of all this, your license could be suspended until you pay off all the fines and fees, which could take years.
What Happens When You Can't Afford the Fines and Fees
If you can't pay for the damages, a court may allow the other driver to recoup those expenses from your paycheck. Under this ruling, the insured driver can receive a percentage of your pay until all of their bills are covered. This includes repairs, medical expenses, lost income, and even pain and suffering.
Also, if you neglect to pay the fines, you could be charged with a misdemeanor. In extreme cases, the court will put out a warrant for your arrest. While this doesn't usually happen, it is possible if you have a previous criminal record.
If you are arrested or punished more severely than seems fair, contact a lawyer. They may be able to reduce your fine or sentence.
At Fault Car Accident in a State That Doesn't Require Insurance
If you're unlucky enough to be involved in an uninsured car accident, the financial implications for you will vary depending on the state where you live. There are 12 states that are considered no-fault insurance states:
Utah
Hawaii
Florida
Kansas
Michigan
Kentucky
New York
Minnesota
New Jersey
Pennsylvania
North Dakota
Massachusetts
If you were driving uninsured and caused an accident in one of those 12 states, the other driver's insurance will pay for the damage. But there is a limit to how much the insurance company is responsible for. If the damage exceeds this limit, you must cover the excess cost.
And while you aren't responsible for the damages below the insurance company's limit, the other driver can still sue you. Also, you'll still have to deal with fines, as well as the other consequences of being uninsured.
When the Car Accident Was Not Your Fault
You can lose your driver's license even if you are not the at-fault driver. If the police are called and you can't prove that you have insurance, your driver's license may be suspended.
Worse, driving without insurance can be considered negligent. As a result, police have the authority to seize your vehicle.
Furthermore, if your state penalizes driers who fail to get insurance, you will be required to pay the fee even if you did not cause the accident.
Finally, you'll have to pay for your own vehicle's damage. This could be a few hundred dollars or the cost of a whole new car.
Suing for Damages
If you live in a state with no pay, no play laws, uninsured drivers can sue for money associated with medical bills and property damage. However, they can't sue for pain and suffering.
Each state has its own regulations regarding the no pay, no play rule. For example, in New Jersey, the at-fault driver does not have to pay the uninsured anything at all. In California, however, an uninsured driver can get reimbursed for medical fees, but nothing more.
Let's say you live in a state where the no pay, no play law is nonexistent. In that case, you have the freedom to sue the driver for damages. However, you will still receive fines for exposing yourself as an uninsured driver.
What to Do in a Car Accident When You're Uninsured
If you've been in an accident without insurance, stay at the scene until the police arrive. The penalties for leaving an accident you've caused can lead to jail time.
You'll also need to get the contact information of the other driver and any witnesses. Taking pictures helps too. You can use them as evidence and present them to law enforcement if necessary.
Next, you'll need to get to work with a lawyer who can protect your financial security. It's best to reach out to one as soon as the accident happens. The attorney will take the time to consider all of the details of your case and explain your options under the law.
Get Help From an Auto Accident Attorney
If you're ever in a car accident without insurance, you need to know your rights. And since the law can always be a confusing thing, it's a good idea to turn to someone who has experience with these situations.
After a vehicle accident, call our team at RHINO Lawyers. You can get a free case analysis and learn some of your options. The sooner you reach out to us, the better we can help prepare your case.
CONTACT A TAMPA AUTO ACCIDENT ATTORNEY
In short, after a car accident, you may not know your rights. Above all, don't struggle through the process alone. Actually, our personal injury team is here to help you with any legal needs you might have regarding your accident.
Lastly, let RHINO Lawyers answer your questions and review the facts of your case with a Free Consultation. So, get started by completing the "Free Instant Case Evaluation" or by calling us any time, day or night, at 844.RHINO.77.