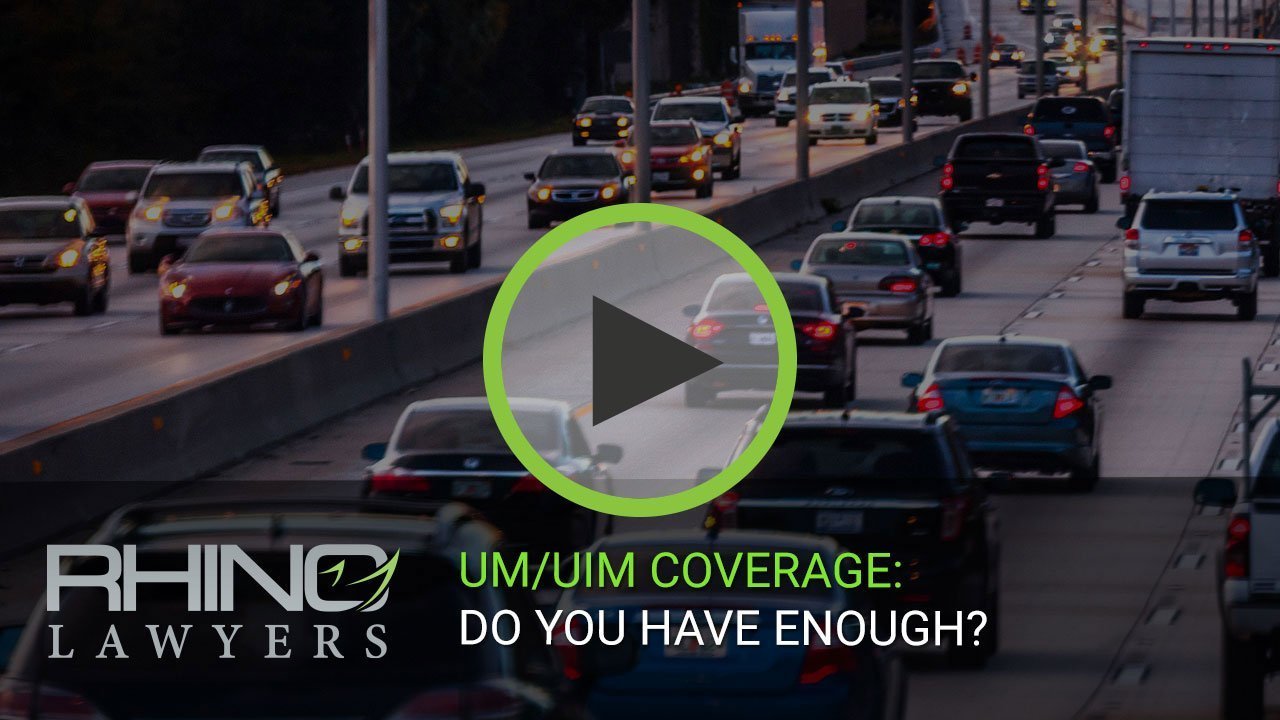 To start with, driving in Florida can be a constant struggle. Because of the traffic, distractions, and amount of uninsured motorists on the roadways, car accidents happen all the time. So, do you have UM/UIM coverage to protect yourself from uninsured motorists? More importantly, do you have enough coverage? As this could be the single most important type of auto insurance you carry.
In reality, most people do not have enough coverage. And, even though a driver may be "at fault" it does not mean that they have insurance to cover your injuries. So, having enough UM/UIM coverage could make a difference in your ability to recover damages.
What is UM/UIM Coverage?
So, you might be wondering how is UM/UIM coverage different from my Bodily Injury coverage? Well, UM coverage will cover you for damages caused by another driver. And, UIM coverage will pay damages when the at-fault driver does not have enough coverage. Specifically, a UM/UIM policy will you to recover the following:
Past and future medical expenses
Lost wages
Non-economic damages like a permanent disability
UM Coverage Stacking
By the way, if you currently have or you're considering UM/UIM coverage ask about stacking. Particularly, stacking allows you to stack coverage based on the number of cars covered on your policy. As an example, if you have a $30,000 UM/UIM policy and two cars on the policy, you stack the policy giving you $60,000 in coverage.
So, before you decline UM/UIM coverage do some research. And, make sure you are making the right choice in coverage to protect yourself. As well as, giving yourself the ability to handle any financial fallout from a car crash.
UM/UIM CLAIM IN NO-FAULT STATE
In a "no-fault" state your insurance company will cover things like medical bills and lost wages regardless of fault. However, they will only cover up to the limits of your coverage. As for your auto repairs, you would need separate collision coverage.
In this situation, you could use your health insurance for your medical bills. Then you could use your collision coverage for repairs needed for your vehicle. However, you will be responsible for the deductibles and you can forget about any lost wages.
As a result, it would be beneficial for all drivers to carry uninsured/underinsured (UM/UIM) motorist insurance. It's a good way to counter an otherwise terrible situation. So, if a driver that doesn't have insurance hits you, your UM insurance will cover you. Because of the reasonable cost of a policy, you should get as much as you can afford.
CONTACT A TAMPA AUTO ACCIDENT ATTORNEY
In short, after a car accident, you may not know your rights. Above all, don't struggle through the process alone. Actually, our personal injury team is here to help you with any legal needs you might have regarding your accident.
Lastly, let RHINO Lawyers answer your questions and review the facts of your case with a Free Consultation. So, get started by completing the "Free Instant Case Evaluation" or by calling us any time, day or night, at 844.329.3491.