Few things make Florida residents feel as helpless as scary car accidents.
In Lakeland, drivers encounter careless and reckless drivers on busy routes like Interstate 4 and along Memorial Boulevard on every trip. A distracted driver's lack of focus can end up causing frightening crashes and leave you or a family member recovering from a major injury.
In order to track the frequency of dangerous car accidents in Polk County, RHINO Lawyers of Lakeland studied accident statistics from the past five years. It's the best way to determine if safety on Lakeland roads is improving or if more effort is needed to keep motorists safer.
Florida Traffic Accident Statistics for 2021 and 2022
Florida's Department of Highway Safety and Motor Vehicles (FLHSMV) tracks car accidents across the state each year. As of the first week of October 2022, they've documented over 287,000 traffic accidents on Florida roads. Those accidents are blamed for over 182,000 injuries and a tragic 2,521 deaths
That compares with 2021 numbers when 401,501 traffic collisions were recorded in Florida in total. Those accidents were responsible for injuring almost 300,000 victims and led to the tragic deaths of 3,733 people.
Lakeland Car Accident Statistics for 2022
Lakeland doesn't have quite the reputation for crazy traffic that places like Orlando or Tampa have, but Polk County still sees thousands of preventable car crashes every year. Unfortunately, a lot of reckless drivers travel between both cities and across Polk County. Drivers and passengers are hurt and local families suffer the consequences.
So far in 2022, the FLHSMV has tracked 9,613 motor vehicle crashes across Polk County. That's according to numbers collected through October 6th of 2022.
This is a look at how Lakeland accident numbers have surged over the past five years: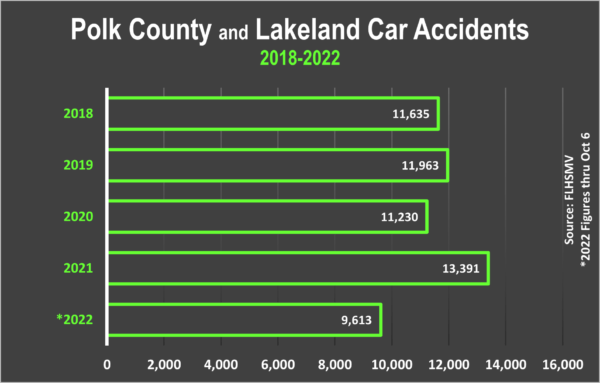 There's a way to go before this year's numbers reach the elevated levels of 2021. In 2021, over 13,000 accidents were recorded on Lakeland and Polk County roads. That figure was at least a thousand accidents more than any of the three previous years.
Sadly, 2022 crash statistics still have time to match or surpass 2021 figures. Generally, over the past couple of years, October, November, and December have proved to be the months that see the most accidents out of all 12 months.
Lakeland Fatal Car Accidents in 2022
The surge in car accidents in 2021 was followed by a surge in fatal incidents as well. 2021 collisions in Lakeland were blamed for 181 heartbreaking deaths and over 9,000 injuries. That was well over 2020's figures that documented almost 7,500 injuries and 134 deaths.
Over a five-year span, Polk County accidents remained steady until a sudden and tragic rise occurred in 2021: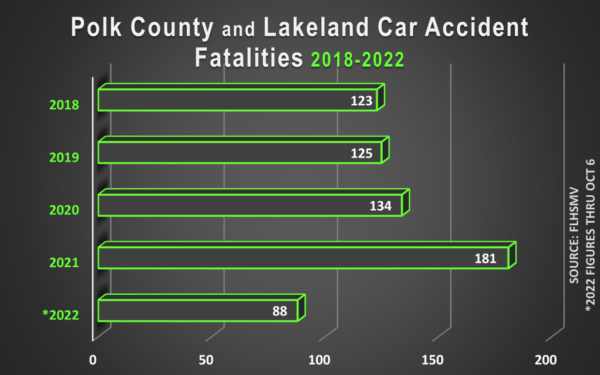 Lakeland Car DUI Accidents in 2022
Polk County drivers might cause accidents when they stare at a cell phone instead of the road. They may also travel too fast for conditions and end up losing control. These mistakes in the lanes are regrettable, but even good drivers can make bad choices.
It's harder to forgive the local drivers who decide to get out on the roads after taking drugs or consuming alcohol. Every other motorist on the highway has their safety put in jeopardy by the presence of an impaired driver.
Unfortunately, cases of drunk drivers causing accidents don't seem to be a hazard that will be going away anytime soon. Crashes involving alcohol-impaired drivers rose dramatically in 2021.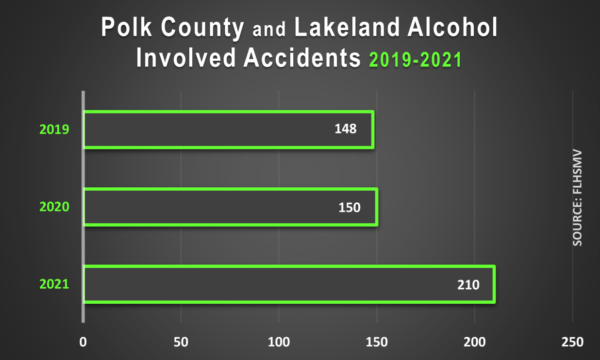 WTSP-TV out of Tampa reported that Florida ranked 10th out of all states for the worst drivers in America. That ranking considered factors like DUI arrests, deadly accidents, and hit-and-run dangers. The research showed that Florida recorded 9.4 fatal crashes involving a drunk driver per 100,000 drivers. Georgia had the same report card with 9.4 fatal crashes, while Louisiana reported 12.2 alcohol-related fatal crashes per 100,000 drivers.
For cautious Lakeland drivers, it's important to note an uptick in alcohol-related deaths on Lakeland roads in both 2020 and 2021.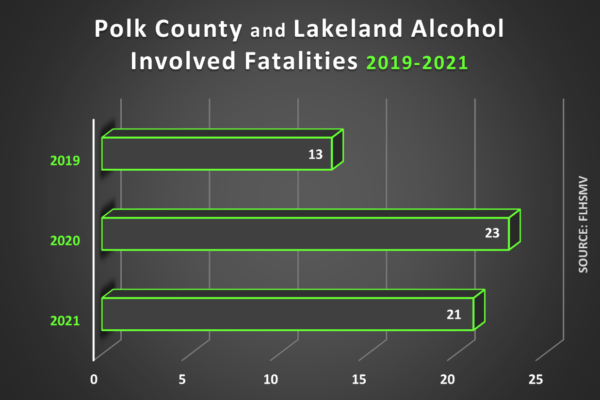 Lakeland Hit-And-Run Accident Numbers in 2022
The WTSP report also reveals that about a fourth of all Florida drivers are uninsured. Unfortunately, that leaves Florida as the number one state in the U.S. for uninsured motorists. When drivers travel to Florida without car insurance, they can be tempted to flee the scene of any accident that they cause.
Unfortunately, that leads to an increase in hit-and-run accidents as drivers seek to avoid the consequences of their actions. In 2021, Florida's Department of Highway Safety and Motor Vehicles recorded over 109,000 accidents involving hit-and-run drivers across the state. Those accidents left almost 25,000 people injured and caused just over 300 fatalities.
In Polk County, 2021 hit-and-run accident numbers topped the 3,000 mark. So far, 2022 numbers are inching toward that dangerous level.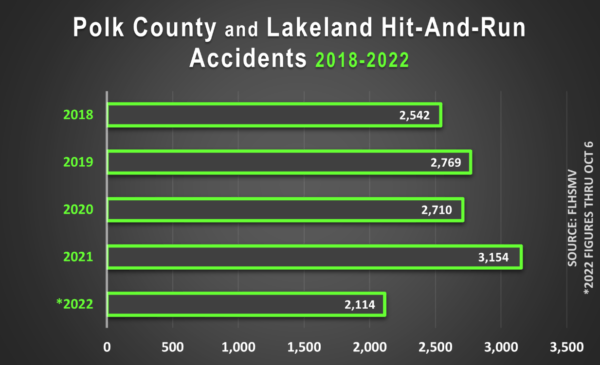 Hit-and-run drivers often exit the scene without reporting an accident, leaving injured victims waiting longer for medical care. That extra time can be the thin line between a hit-and-run victim surviving an accident or becoming a tragic fatality statistic.
Lakeland's deadly hit-and-run accident cases took a leap in 2020 and that frightening trend continued in 2021.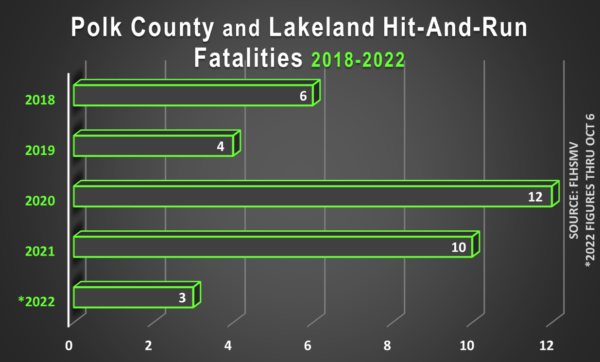 Seeking Support After a Lakeland Car Accident Injury
We can hope that 2022 ends with a safer stretch for Polk County drivers. It would be nice if 2022 accident statistics fell well short of where they've been heading over the past few years.
Unfortunately, accidents on local roads will be a way of life for many years to come. There's always a chance you or a loved one will be the next victim. If you or a family member are hurt in a Lakeland traffic accident, it's critical to your future that you understand the benefits and support that are available.
You can talk over your options in a free, no-obligation consultation with a real Lakeland Car Accident Attorney at RHINO Lawyers. It's a chance to get every question you have answered and to find out what your case may be worth.
CONTACT A Lakeland AUTO ACCIDENT ATTORNEY
In short, after a car accident, you may not know your rights. Above all, don't struggle through the process alone. Actually, our personal injury team is here to help you with any legal needs you might have regarding your accident.
Lastly, let RHINO Lawyers answer your questions and review the facts of your case with a Free Consultation. So, get started by completing the "Free Instant Case Evaluation" or by calling us any time, day or night, at 844.RHINO.77.